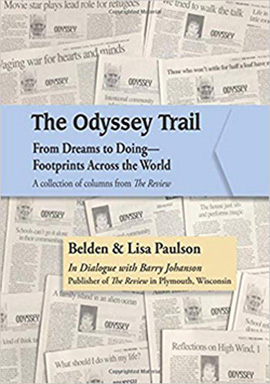 The Odyssey Trail:
From Dreams to Doing — Footprints Across the World — A collection of columns from The Review
by Belden & Lisa Paulson
The "Odyssey" columns that appeared in The Review took the form of a unique long-term interview. They were the brainchild of publisher Barry Johanson, who originated them for his distinguished community newspaper in Plymouth, Wisconsin. His plan was to ferret out details that Belden Paulson, resident of the nearby town of Mitchell, wrote about in his provocative memoir, Odyssey of a Practical Visionary: Eco-communities • Sustainable Futures • Refugee Resettlement • Poverty and Racism • Dysfunctional Schools.
Beginning in January 2010, for over a year Barry emailed questions to Bel and his wife, Lisa, based on that book and relating to their lifetime together pursuing out-of-the-box ideas, projects, and wide-ranging adventures.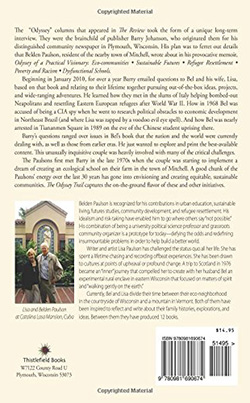 He learned how they met in the slums of Italy helping bombed-out Neapolitans and resettling Eastern European refugees after World War II. How in 1968 Bel was accused of being a CIA spy when he went to research political obstacles to economic development in Northeast Brazil (and where Lisa was zapped by a voodoo evil eye spell). And how Bel was nearly arrested in Tiananmen Square in 1989 on the eve of the Chinese student uprising there.
Barry's questions ranged over issues in Bel's book that the nation and the world were currently dealing with, as well as those from earlier eras. He just wanted to explore and print the best-available content. This unusually inquisitive couple was heavily involved with many of the critical challenges.
The Paulsons first met Barry in the late 1970s when the couple was starting to implement a dream of creating an ecological school on their farm in the town of Mitchell. A good chunk of the Paulsons' energy over the last 30 years has gone into envisioning and creating equitable, sustainable communities. The Odyssey Trail captures the on-the-ground flavor of these and other initiatives.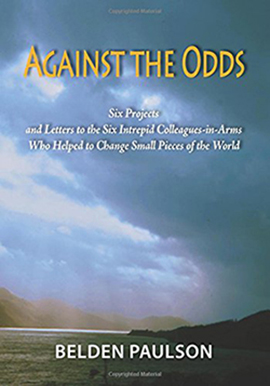 Against the Odds:
Six Projects and Letters to the Six Intrepid Colleagues-in-Arms Who Helped to Change Small Pieces of the World
by Belden Paulson
The first step Belden Paulson takes when he launches into a new project is to envision the ideal outcome. He shares this image with colleagues: If the best happens—this is how we can expect it to play out. There may be minimal ideas as to how to get there, especially if the goal is complex or requires jumping into virgin territory. There will be obstacles and as time moves on the steps along the way may shift, but the essential objective remains firm. Bel describes six chapters of his adventurous life that mark distinct, radically different experiences, both philosophically and professionally. To relive the high points, he writes a letter to a key partner in each.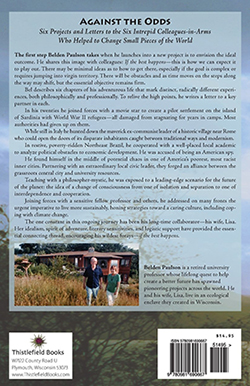 In his twenties he joined forces with a movie star to create a pilot settlement on the island of Sardinia with World War II refugees — all damaged from stagnating for years in camps. Most authorities had given up on them.
While still in Italy he hunted down the maverick ex-communist leader of a historic village near Rome who could open the doors of its disparate inhabitants caught between traditional ways and modernism.
In restive, poverty-ridden Northeast Brazil, he cooperated with a well-laced local academic to analyze political obstacles to economic development. He was accused of being an American spy.
He found himself in the middle of potential chaos in one of America's poorest, most racist inner cities. Partnering with an extraordinary local civic leader, they forged an alliance between the grassroots central city and university resources.
Teaching with a philosopher-mystic, he was exposed to a leading-edge scenario for the future of the planet: the idea of a change of consciousness from one of isolation and separation to one of interdependence and cooperation.
Joining forces with a senstivie fellow professor and others, he addressed on many fronts the urgent imperative to live more sustainably, honing strategies toward a caring culture, including coping with climate change.
The one constant in this ongoing journey has been his long-time collaborator — his wife, Lisa. Her idealism, spirit of adventure, literary sensitivities, and logistic support have provided the essential connecting thread, encourageing his wildest forays — if the best happens.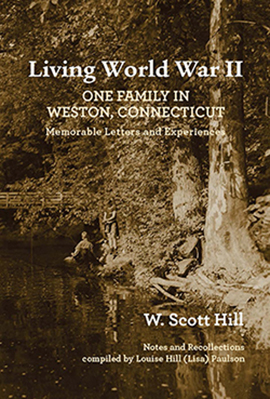 Living World War II
One Family In Weston, Connecticut
Memorable Letters and Experiences
by Lisa Paulson
As terrible as the war years were, and despite the myriad inconveniences, the fact that they were tinged with the flavor of the often surreal, idyllic life we had built in that precise time span—1939 to 1945—made our sojourn in Weston an almost magical time in my memory. No doubt part of this was because everyone in town (and in the country) drew closer together, both because sharing was necessary, and because everyone was united behind the massive threats of a brutal war. A sense of community developed that was considerably stronger at that time than in our more politically fragmented life now.
My memories are rich with many subsequent visits to my parents' home after 1959, with my husband, two sons, and their families. Yet it was that earlier time in Weston, exactly bracketing the war years, that hold a special significance. That encapsulated period—that life—has, for me, ballooned to almost mythic proportions.
Of course, there were hardships. We scraped along with limited fuel, tires, shoes, stockings, meat, sugar, butter, and much more (often with unpleasant substitutes). We had to bike or walk when we could no longer drive our cars. Clearly there was terrible anxiety in families with servicemen, who died in great numbers. (Three out of four older brothers of a high school classmate were killed.) I was fortunate to be just under the age when my contemporaries might be drafted. But there was a sense that this was a just, "good" war. There was enthusiasm and strong patriotism when we entered the conflict in 1941. It was a time for heroism. For me, there was a romantic aura about the era: all America was unified in a singular purpose. We put our military in their uniforms on a pedestal; they were going to save Europe, defeat Hitler, then Japan. There was a righteousness, even a fierce joy, about living with the sacrifices and hardships. We reveled in our Victory Gardens, in volunteering for defense work, supporting the troops, entertaining them, rolling bandages, darkening our windows with blankets, spotting planes.
The petty kinds of concerns—small crimes and misbehaviors—seemed to melt away or recede significantly in the face of our collective task.
Yes, these are memories to cherish.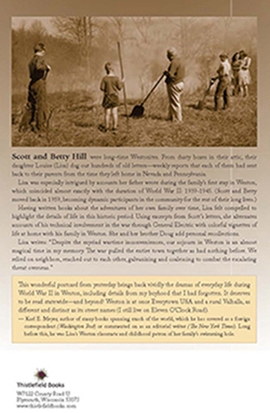 From Back cover:

Scott and Betty Hill were long-time Westonites. From dusty boxes in their attic, their daughter Louise (Lisa) dug out hundreds of old letters—weekly reports that each of them had sent back to their parents from the time they left home in Nevada and Pennsylvania.
Lisa was especially intrigued by accounts her father wrote during the family's first stay in Weston, which coincided almost exactly with the duration of World War II: 1939-1945. (Scott and Betty moved back in 1959, becoming dynamic participants in the community for the rest of their long lives.)
Having written books about the adventures of her own family over time, Lisa felt compelled to highlight the details of life in this historic period. Using excerpts from Scott's letters, she alternates accounts of his technical involvement in the war through General Electric with colorful vignettes of life at home with his family in Weston. She and her brother Doug add personal recollections.
Lisa writes: "Despite the myriad wartime inconveniences, our sojourn in Weston is an almost magical time in my memory. The war pulled the entire town together as had nothing before. We relied on neighbors, reached out to each other, galvanizing and coalescing to combat the escalating threat overseas."
"This wonderful postcard from yesterday brings back vividly the dramas of everyday life during World War II in Weston, including details from my boyhood that I had forgotten. It deserves to be read statewide—and beyond! Weston is at once Everytown USA and a rural Valhalla, as different and distinct as its street names (I still live on Eleven O'Clock Road)."
— Karl E. Meyer, author of many books spanning much of the world, which he has covered as a foreign correspondent (Washington Post ) or commented on as an editorial writer (The New York Times). Long before this, he was Lisa's Weston classmate and childhood patron of her family's swimming hole.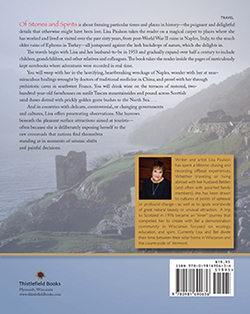 Of Stones and Spirits: 60 Years of Travel
by Lisa Paulson
Of Stones and Spirits is about freezing particular times and places in history—the poignant and delightful details that otherwise might have been lost. Lisa Paulson takes the reader on a magical carpet to places where she has worked and lived or visited over the past sixty years, from post-World War II ruins in Naples, Italy, to the much older ruins of Ephesus in Turkey—all juxtaposed against the lush backdrops of nature, which she delights in.
The travels begin with Lisa and her husband-to-be in 1953 and gradually expand over half a century to include children, grandchildren, and other relatives and colleagues. The book takes the reader inside the pages of meticulously kept notebooks where adventures were recorded in real time. You will weep with her in the horrifying, heartbreaking wreckage of Naples, wonder with her at near-miraculous healings wrought by doctors of traditional medicine in China, and prowl with her through prehistoric caves in southwest France.
You will drink wine on the terraces of restored, two-hundred-year-old farmhouses on sunlit Tuscan mountainsides and pound across Scottish sand dunes dotted with prickly golden gorse bushes to the North Sea. . . .
And in countries with delicate, controversial, or changing governments and cultures, Lisa offers penetrating observations. She burrows beneath the pleasant surface attractions aimed at tourists—often because she is deliberately exposing herself to the raw crossroads that nations find themselves standing at in moments of seismic shifts and painful decisions.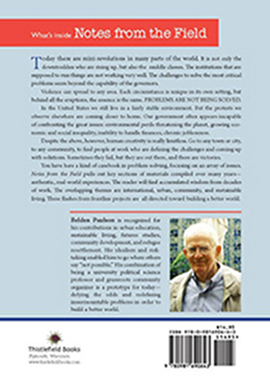 Notes from the Field: Strategies toward Cultural Transformation
by Belden Paulson
Today there are mini-revolutions in many parts of the world. It is not only the downtrodden who are rising up, but also the middle classes. The institutions that are supposed to run things are not working very well. The challenges to solve the most critical problems seem beyond the capability of the governors.
Violence can spread to any area. Each circumstance is unique in its own setting, but behind all the eruptions, the essence is the same. PROBLEMS ARE NOT BEING SOLVED.
In the United States we still live in a fairly stable environment. But the protests we observe elsewhere are coming closer to home. Our government often appears incapable of confronting the great issues: environmental perils threatening the planet, growing economic and social inequality, inability to handle finances, chronic joblessness.
Despite the above, however, human creativity is really limitless. Go to any town or city, to any community, to find people at work who are defining the challenges and coming up with solutions. Sometimes they fail, but they are out there, and there are victories.
You have here a kind of casebook in problem-solving, focusing on an array of issues. Notes from the Field pulls out key sections of materials compiled over many years—authentic, real-world experiences. The reader will find accumulated wisdom from decades of work. The overlapping themes are international, urban, community, and sustainable living. These flashes from frontline projects are all directed toward building a better world.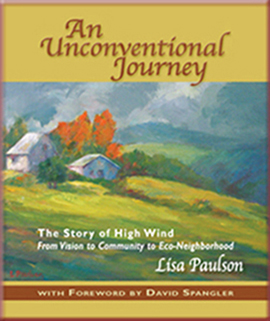 An Unconventional Journey
by Lisa Paulson
An Unconventional Journey
gives voice to the nearly universal yearning for connection that people are feeling today. In the face of increasing hardships on many fronts, we feel an urgency to join together for mutual support to satisfy our material and psychological needs. We yearn for the sense of safety and solidarity that feeling part of a community offers. Author Lisa Paulson not only documents the development of High Wind, an experimental "intentional community," but she also describes the related attempts of groups through the ages to create more workable societal strategies. From early on, Lisa Paulson has looked beyond the mainstream and felt compelled to challenge status quo trends and values. She sees the imperative for different cultures to stand thoughtfully in each others' shoes. She recognizes that a sustainable way of life is best realized in the cooperation of groups such as "intentional communities"—relatively manageable entities whose members try to live out a particular vision. In
An Unconventional Journey
, Lisa Paulson captures the accomplishments and the disappointments, the successes and the challenges, of living as part of an intentional community. Through words, as well as through twenty-seven annotated photo spreads, she tells the story of her own unconventional journey that resulted in the creation of High Wind, the development of this unique community, and the lessons that can be learned from it.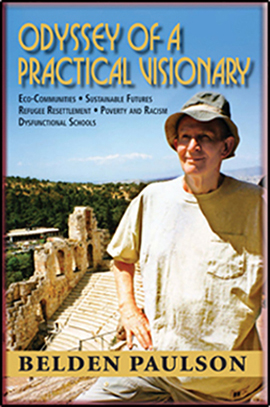 Odyssey of a Practical Visionary
by Belden Paulson
Odyssey of a Practical Visionary
is the story of Belden Paulson, whose life has been dedicated to building a better world politically and economically. Shortly after graduating from college, Belden Paulson jumped into postwar reconstruction work with homeless cave dwellers in Naples, co-founding Italy's first social settlement center providing medical, food, and educational services. He then worked to resettle Iron Curtain refugees on the island of Sardinia. In the 1960s, Belden organized the first department in the University of Wisconsin to address inner-city poverty and racism. In recent years, he focused on the long-range imperatives for our culture, teaching courses on "alternative futures" and organizing many practical projects. With his wife Lisa, Belden co-founded the High Wind intentional ecological community. All these distinct "careers" — international, urban, futures— reflect a recurring theme: tackling problems that others often called "hopeless," sometimes with surprising results.
This book is a fascinating and compelling memoir of unique experiences and brave experiments—pointing the way to a better future for the human family. It details bottom-up, small scale, hands-on projects of someone who knows the "conditions on the ground." The descriptions of the events are infused with thoughtful reflection; their meaning and significance are placed into the big picture of an important era in U.S. and global history. This memoir offers practical models on a range of critical problem areas and to build a sustainable world. Belden's creative idealism offers useful examples for young and old of what it takes to move a seed idea toward implementing transformational values in a world that desperately needs them but is loath to embrace them. Odyssey of a Practical Visionary demonstrates an unshakeable belief in the human spirit.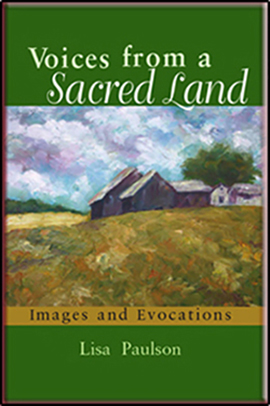 Voices from a Sacred Land by Lisa Paulson
While chronicling the history of High Wind, an experimental ecological community developed with her husband Belden Paulson, Lisa Paulson was drawn to the documents that described the land itself. Whether moving through daily tasks or welcoming visitors who came to High Wind for both practical and philosophical explorations, Paulson found that it was the powerful, enchanting, healing presence of nature itself that deeply influenced all she felt and did. This realization compelled her to interrupt her research on High Wind to record her own and others' responses to the land she had grown to love and cherish. This poetic collection of writings, enhanced by four-color photographs and paintings, will increase your appreciation of nature and expand your awareness of the central role of the natural world in our lives.
Author Lisa Paulson writes: "In Voices from a Sacred Land, I decided that I simply had to express my own intense love of this land, this sacred land, by writing about it . . . I needed to share the collected experiences of the High Wind meadows and woods and hills as we cycled through the seasons and years."