Belden Paulson
Belden grew up in Oak Park, Illinois and attended Oberlin College. After graduation, he sailed to Italy and worked with cave dwellers in Europe's postwar reconstruction, co-founding Italy's first social settlement center in the waterfront slums of Naples. One night in 1952, a former Oberlin College classmate unexpectedly showed up; he hired Lisa and a year later they married.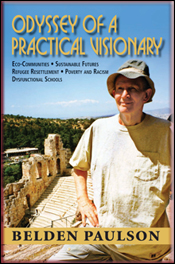 While finishing his political science doctoral work at the University of Chicago in the latter 1950s, Belden renewed contact with actor Don Murray, who had just filmed Bus Stop with Marilyn Monroe. Belden and Don had first met in Naples when Don was assisting "hard-core" refugees who were stagnating in barbed wire camps. Belden and Don returned to Italy in 1957, bought virgin land on Sardinia, and co-founded HELP (Homeless European Land program).  Despite world "experts" concluding there was no solution for these rejected people, these two idealists managed to create a viable community. The United Nations High Commissioner for Refugees then brought Belden to their Rome office to develop strategies for clearing Italy's refugee camps.
These early years launched Belden into a lifetime of exotic international experiences. He authored a book, The Searchers—Conflict and Communism in an Italian Town (Quadrangle Books, 1966), which addressed Italy's Communist-voting village (dubbed "Little Moscow"). He wrote papers on the dynamics of social change, described in "A Man in Every Village" with the premise that one key person in a village, in collaboration with others outside, can produce major results. Belden designed development research in Northeast Brazil, where his leadership studies in an anti-American milieu caused him to be labeled "James Bond 008." He co-led futures studies trips to China, including organizing global conferences in Shanghai on the interrelationship between the environment and economic development. (He arrived in Tiananmen Square just when students favoring human rights challenged government authority.)  In 1990, he co-chaired a task force at a citizen diplomacy-initiated US-USSR Summit in Moscow that was charged with creating a global think tank.
In the early 1960s, Belden joined the University of Wisconsin-Milwaukee where, in addition to teaching for thirty-five years, he helped to organize the university's urban mission. With inner-city leader Reuben Harpole, he assisted the university in establishing the Center for Urban Community Development (CUCD), which focused on inner-city poverty and racism. As chair of this department for twenty-two years, he worked to improve inner-city schools, teaching "new thinking" to push learning away from obsolete 19th century assembly-line classes. He helped to found two innovative schools: the first public Waldorf School in the United States and the Global Learning Center, which  inspired inner-city middle-school students to become global citizens. CUCD organized the Harambee Revitalization Project for comprehensive community development in a 170 city-block area, and created an innovative model for analyzing the political, environmental, economic, and educational "health" of the community.
Belden and his wife Lisa founded High Wind, an experimental ecological community in Wisconsin and co-sponsored a wide variety of educational programs with UWM that focused on "new paradigm thinking." These credit seminars, short courses, lectures, national conferences, tours, and solar home-building workshops, provided the "shock troops" for launching High Wind, and over the years these events brought thousands into High Wind's broadening orbit. Belden's book details the four "waves" of residents who lived at High Wind and experienced the "highs" and "lows" thrust upon them. They were ordinary people accepting the extraordinary challenge of creating a new, caring culture based on sustainable living. Several years ago, the High Wind Association transferred property to two Buddhist groups. Belden and Lisa are now assisting the Shambhala Buddhists to establish Windhorse, a Midwest retreat and sustainability center, while also continuing to help the High Wind Foundation to fund the initiatives of other groups.
Lisa Paulson
Author and environmentalist Lisa Paulson has been named the winner of the 2011 Next Generation Indie Book Award in the New Age category for her recent book An Unconventional Journey: The Story of High Wind — From Vision to Community to Eco-Neighborhood.
Writer, poet, and artist Lisa Paulson grew up along the East Coast of the United States. She attended both Vassar and Oberlin College, graduating from Oberlin with a degree in English literature in 1950. While attending college, she spent a summer studying cello with the famed Leonard Rose. After graduation, Lisa worked with the Experiment in International Living in Vermont, arranging for young Americans to live in families in many countries around the world.
In 1952, with backpack and idealism, she landed in South Italy, where she was to live off and on for the next nine years. Trying to figure out where she could be of the most help, a white Russian prince who ran the World Council of Churches in Rome directed Lisa to the waterfront slums of Naples to Casa Mia, Italy's first settlement center for homeless Neapolitans displaced by World War II.  It was there that Lisa met and worked with Belden Paulson, the co-creator of Casa Mia. The couple married in 1954. In fall 1957, Lisa, Belden, and their eleven-month-old son Eric returned to Italy to spearhead a project to resettle Iron Curtain refugees on the island of Sardinia in partnership with Don Murray, who subsequently became a successful Hollywood actor.  Lisa and Belden remained in Sardinia for two years and then moved to Rome, so that Belden could work with the United Nations to implement a plan to resettle the remaining refugees in Italian camps. While in Rome, their son Steve was born.
The Paulson family moved to Wisconsin in fall 1962. While living in Milwaukee and raising their two sons, Lisa immersed herself in a number of arts projects: painting and dance, and playing for eighteen years in the local symphony orchestra. After participating in a citizen diplomacy trip to Moscow, she studied Russian for ten years.
In the early 1970s, Lisa helped to develop and then teach in a school exploring altered states of consciousness, and through contacts there, she became interested in the renowned international, spiritually eclectic community in northern Scotland called Findhorn.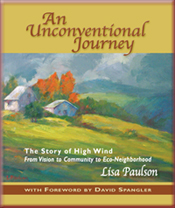 A visit to Findhorn in 1976 proved to be a life-changing experience. A primary objective of this pioneering group was to reestablish the connection between people and nature—people working in conscious harmony and cooperation with nature, rather than manipulating it or having dominion over it. Lisa was motivated by the hundreds of people talking about the urgent need to practice sustainability, addressing the issue of finite resources and the imperative to develop alternative sources of energy—long before most of America had even heard about this crisis. These visits to Findhorn, along with her travels to the New Alchemy Institute in Massachusetts, had a profound impact on the creation of High Wind, an intentional community she and Belden founded in the early 1980s.
Returning to the United States from Findhorn, Lisa vowed to bring these ideas back to Wisconsin, and, with her husband Belden, began to draw in a nucleus of people to implement a similar experiment in living more simply and consciously. Lisa and Belden dedicated a small farm north of Milwaukee that they owned to building a demonstration passive solar building where a family might live and also grow and sell food from its greenhouse. To begin construction, they established the High Wind Association, a non-profit organization, and with a government grant attracted many enthusiastic volunteers who came out to the rural countryside to help build. Several of these volunteers stayed on, making a commitment to try to live these ideas and to create educational programs about them. And so, in the early 1980s, the High Wind eco-community was born.
High Wind flourished for over twelve years with up to twenty-two residents at a time, several of whom built their own solar homes on the land. Lisa's responsibilities at High Wind included editing Windwatch, the community journal, and coordinating outreach efforts that included leading tours for the hundreds of visitors that flocked to High Wind. As editor of Windwatch, Lisa not only documented the on-going process of this unfolding intentional community, but also contributed a number of articles to Communities magazine, the nationally recognized voice for these experimental enclaves. Her pieces detailed some of the more sensitive and difficult challenges High Wind residents faced in their daily lives, as well as the broader political aspects of relating to their neighbors. Lisa also lectured widely about the creation of High Wind, including a joint presentation with Belden in 1998 at a major international conference at Findhorn, Creating Sustainable Community: Here, There & Everywhere.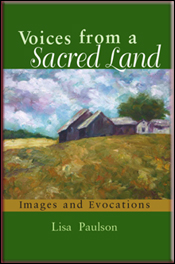 Eventually, the residents of High Wind decided to let go of the tight-knit structure of their community, where everyone cooked, ate, worked, and lived together. At the beginning of the new millennium, the High Wind Association sold its public buildings to two Buddhist groups who have continued the traditions of loving and respecting the land and focusing attention on thoughtful philosophical/spiritual paths.
In the 1990s, the High Wind Association brought hundreds of minority children from middle schools in Milwaukee to High Wind for assorted programs based in nature and to this day, continues to address issues of sustainability. Currently, the High Wind Foundation is funding initiatives of the Milwaukee Interfaith Council; an inner city church; an urban Waldorf school; a Fair Trade store; and the Shambhala Buddhist Center at High Wind.
Lisa and Belden Paulson now divide their time between the countrysides of Wisconsin and Vermont.